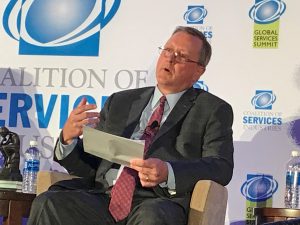 Chris Southworth, ICC United Kingdom Secretary General talks to Rob Mulligan, Senior Vice President for policy and government affairs at the United States Council for International Business (USCIB), and Jean Blaylock, Coordinator at the Trade Justice Movement, on creating an inclusive trade model.
Discussion topics:
Creating a trade model that works for everyone (government, business, NGOs, unions, civil society) from the business and NGO perspectives

What works in the US with respect to trade inclusiveness and where there is room for innovation

International trade models that exemplify best practice

Opportunities that lie ahead with respect to trade
Audience: Policymakers, Directors, Boards, International businesses, trade exerts, NGOs
We are now broadcasting to over 130 countries worldwide from Sri Lanka to the USA, so if you would like to come and speak on a topical world business issue, please let us know by emailing press@iccwbo.uk.
To keep up to date with news and updates at the ICC United Kingdom, follow us on Twitter!